Sunday, July 14th from Noon to 3:00pm
Plan your private event at Cairnwood! Engaged couples and their families are invited to learn more about renting the Estate for their wedding reception and meet the talented vendors that bring celebrations to life. Are you already a "Cairnwood Couple" and have your event date reserved for next year? The Open House is the ideal time to meet face-to-face with preferred caterers, florists, musicians, photographers, and more!
Free to attend
Space is limited; registration required
RSVP to info@cairnwood.org or by calling 215-947-2004
Thursday, August 15th at 7:00pm
An end-of-summer tradition, the Summer Wine Tasting includes live music by EBE- Amsterdam Duo! Beautiful decor created by Robertson's Flowers & Events. Samplings of premium wines from around the world, and  savory bites compliments of Karen's Catering. Don't miss this opportunity to enjoy an evening out with friends while soaking in the stunning views from the Cairnwood terrace!
$40 per person
Space is limited; reservations required
Must be 21 years of age to attend
Cairnwood Book Club Meeting
Tuesday, September 24th at 7:30pm
The Cairnwood Literary Guild is a unique book club experience. Gilded Age and Victorian literature enthusiasts, from novice to experienced educators, come together to explore the rich and intriguing cultural and social history of the 19th century. The Literary Guild meet bimonthly to enjoy a diverse reading list, including fiction and non-fiction.
Current selection: The Forsyte Saga: Complete Three Volumes by Nobel Prize-winning John Galsworthy

Free Admission
Limited availability. RSVP: info@cairnwood.org
Halloween Masquerade Ball
Friday, October 25th at 8:00pm
Celebrate Halloween in style! Enjoy delicious hors d'oeuvres and refreshments by Feastivities Events while sipping complimentary wine, beer, & signature drinks. This year's theme is "Dive into Atlantis!" Submerge under the sea and dance the night away!
Black tie optional * Masks mandatory * Prizes for "best outfit," "best mask," and "best couple"
$65 per person
Space is limited; reservations required
Must be 21 years of age to attend
Lace & Linings: Turning Three Generations of Historic Fashions Inside Out
Special Exhibition December 3rd – December 29th
Our annual Christmas gown exhibition includes elegant fashions worn by the ladies of the house.
Included with Estate admission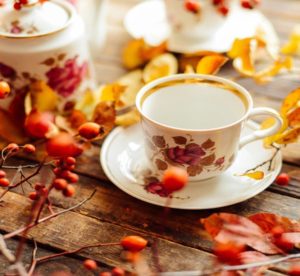 Weekly in December at 12:30pm
Sunday 8th, 15th, & 22nd; Wednesday 4th, 11th, & 18th; Thursday 5th, 12th & 19th
Afternoon Tea is unmistakably a truly Victorian custom known worldwide. Enjoy premium teas by master blender Harney & Sons, traditional tea sandwiches, soup du jour and seasonal salad, family style petit fours and scones with clotted cream and jams. Package include tea service, self-guided tour, & access to the annual gown exhibition.
$55 per person
Space is limited; reservations required
Thursday, December 12th at 7:00pm
The most sparkling time of year comes alive by the glow of candlelight! Explore three floors decorated for the season by professional florists, enjoy yuletide desserts, live music, and the cheer of the holiday!
$25 per person
Space is limited; reservations required